【news】Taipei Tech Celebrates 110 Years, President Tsai Delivers Remarks at the Anniversary Ceremony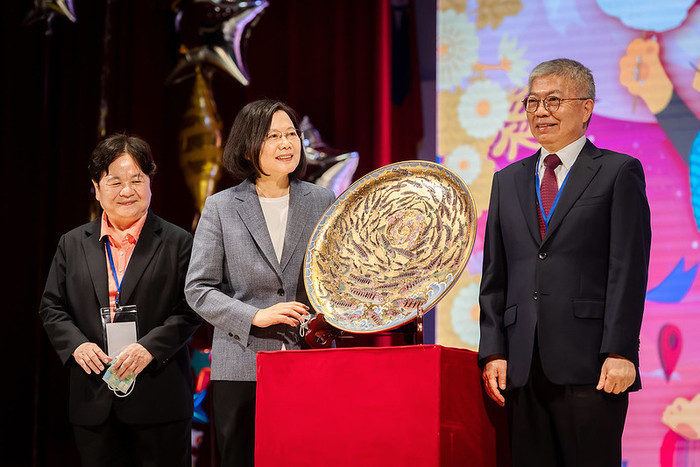 Taipei Tech celebrated its 110th anniversary on October 30th. President Tsai Ing-wen was invited to deliver remarks at the celebration ceremony. Among other honorable guests invited to the celebration ceremony were Senior Advisor to the President Yen Chih-Fa, Executive Yuan Minister without Portfolio Chang Jing-sen, Examination Yuan Minister without Portfolio Yao Leehter, Minister of Education Pan Wen-chung and Vice Minister of Economic Affaires Lin Chuan-neng.
Wang Sea-fue, President of Taipei Tech, pointed out that Taipei Tech has been continuously cultivating extraordinary talents with practical capabilities and professional ethics throughout the past 110 years. "We should carry out our excellent tradition of honesty, sincerity, proficiency and dedication," said Wang, "we should also utilize our innovative abilities to pursuit a brighter future."

President Tsai indicated in her remarks that she appreciates Taipei Tech's contribution to the cultivation of professional and technical talents. "Talents are the most valuable assets to the development of Taiwan's future industry," said Tsai, "the government will continue to support the development of vocational and technological education". Tsai further encouraged current students to foster their own strengths and professional skills. She believes that the students will soon to be the driving force of Taiwan's industry development.
Two distinguished alumni, Lee Yi-fa and Chang Hong-chia, were conferred the honorary doctorate degree at the ceremony. Lee Yi-Fa is the Chairman of Chant Oil Co. Ltd, and he is also one of the pioneers that practicing circular economy in Taiwan. Lee's oil company specializes in turning discarded oil collected from fast-food restaurants and fried chicken stands into biodiesel. Since 2015, Lee exports approximately 60,000 tons of biodiesel yearly to Europe and generates about 2 billion profit per year. Lee graduated from National Taipei Institute of Technology in 1958, and he has been generously giving back to his alma mater by offering scholarships, donating facilities and facilitating industry-academia cooperation.
Chang Hong-chia graduated from National Taipei Institute of Technology in 1972, and he founded the Holmsgreen Group with his father in 1986. Now the Holmsgreen Group have invested in wide range of fields such as seafood, vehicle engineering, food, continent stores, logistics and hotels. Chang was also designated to be the Chairman of Sanyang Motor Co., Ltd. (SYM) from 2014 to 2017. When he served as the Chairman, he managed to increase the market share of the SYM motorcycles from 11% to more than 20%. For the past years, Chang has spared no efforts to donate lab equipment, provide scholarships and served as a consultant to Taipei Tech. Both Lee and Chang have made tremendous contributions toward Taipei Tech.